With nearly 3 million adults now vaping, the UK is becoming one of the most vape-friendly nations in the world. With hassle-free designs and a variety of eLiquid flavours, adult nicotine users in UK cities are embracing vaping.
We surveyed 2,000 adults across the UK to reveal their attitudes and behaviours towards vaping, to see if we could uncover which UK cities are the most vape-friendly, and for what reasons. We looked at our online vape sales from the last year, as well as physical vape shop data to uncover UK vapers' purchasing trends against the number of shops in every UK city. We also analysed the trends in online vape searches over the last 5 years and to see how adult vapers were finding their vape products online.
Our findings revealed that although there are more online purchases of vape products in the South East, the city with the most vape shops per square mile is in fact Leeds. So, according to our research, which are the UK's Vape Capitals?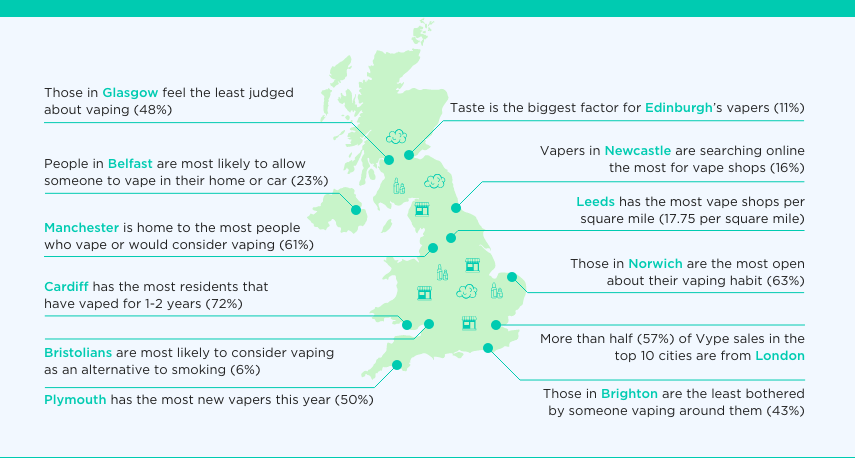 When it comes to attitudes towards vaping, vapers in Glasgow say that they feel the least judged when they vape compared to any other UK city, with 48% of respondents saying that they "do not feel judged for vaping, or have not noticed anyone judging them". Vapers in Nottingham follow closely with 44% agreeing that they don't feel judged, and finally, vapers in Liverpool (42%) completing the top three UK cities where vapers say they don't feel judged by others for vaping. It was also found that vapers in Norwich are the most open about vaping, with 63% of respondents revealing that everyone they know is aware that they vape. This was closely followed by vapers in Southampton, (62%) who also have no problem telling people that they vape.
Our results highlighted that flavour was a strong factor in why adult nicotine consumers vape. Vapers in Edinburgh vape the most because they like the taste using eLiquids (11%), whilst for non-vapers in Nottingham, vape flavours are the biggest thing that interests them about vaping (6%).
The newest collection of vapers (with 50% vaping for less than one year) are currently in Plymouth. The city with the most vapers having vaped between 1-2 years are in Cardiff (72%), and the city home to the vapers that have vaped for the longest is Liverpool, where most have vaped for three years or more (58%).
Top UK cities vape sales in 2020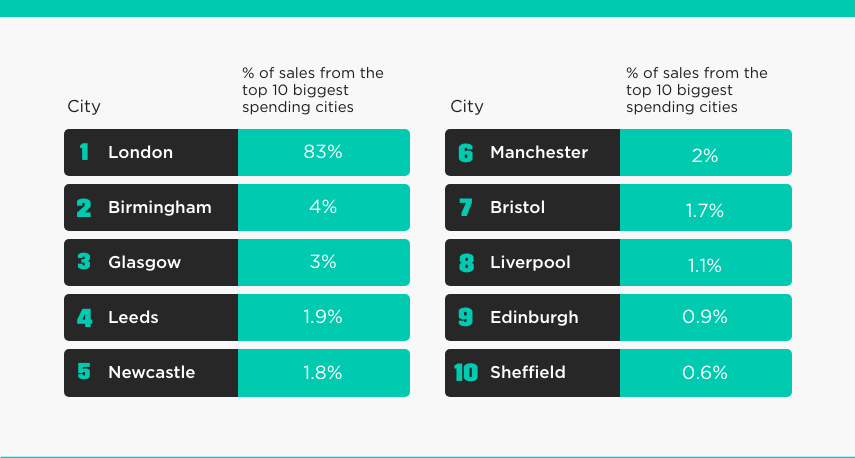 Uncovering the top vape spenders revealed a clear winner. London spends the most on Vype vape products online, with roughly 83% of all items bought this year coming from the capital, which is almost 21% more than the second biggest city sales (Birmingham).
Top UK'S favourite Vype eLiquid flavours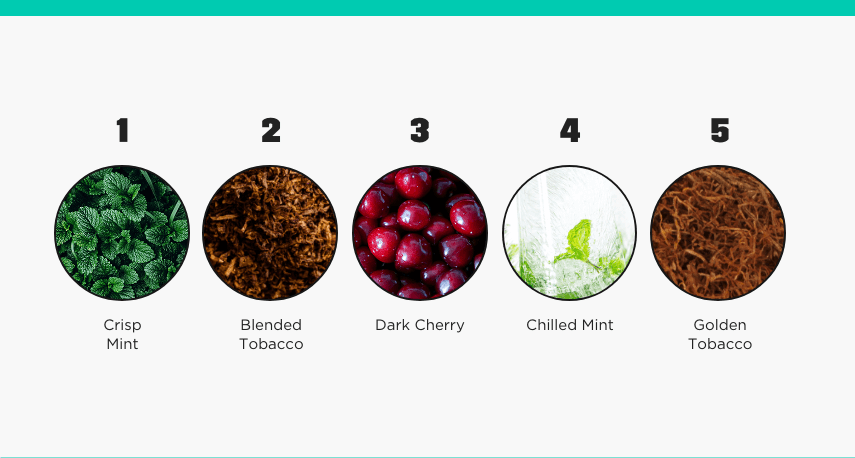 Our survey indicated that UK vapers like to buy their products online, but what Vype eLiquid flavours are they buying the most? Vype's refreshing Crisp Mint eLiquid was revealed to be the top Vype flavour in the UK. Every UK region favoured Crisp Mint out of any other Vype eLiquid, except for Yorkshire who preferred Blended Tobacco.
The UK's top Vype eLiquid flavours also included Blended Tobacco in second, followed by Dark Cherry, Chilled Mint and Golden Tobacco in fifth.
Top UK cities by the highest number of vape shops per square mile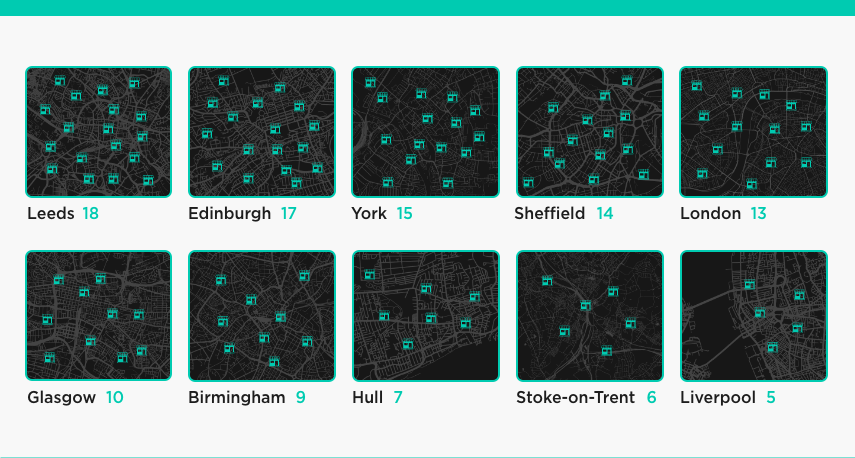 When it comes to the amount of vape shops per city area square mile, the Northern UK cities dominated. We found that Leeds has more vape shops per square mile than any other UK city (18), followed closely by Edinburgh (17), York (15) and Sheffield (14). The Northern cities' preference for physical vape shops was also evident in the number of online searches for the term 'vape shops'. We found that it was Newcastle who were searching the most for vape shops online (16%), followed by Norwich (14%).
Looking to find the nearest Vype shop in your city? Vype stocks our high-quality products in high-street retailers across the country. Discover our vape store locator to find the nearest store to you.
Disclaimer
We request that our trade partners purchase through their trade representative or from Vapour Market, however, if you want some information on our products you can view our e-cigarettes and eLiquids on the Vype website.
Methodology
To find out the UK's attitudes and habits towards vaping, we conducted a survey of 2,000 respondents across the UK aged 18+ via Censuswide.
For the purpose of the survey and to achieve the highest number of respondents, the results included vapers and non-vapers and were asked to state which category they fell into.
The survey asked respondents 8 multi-choice questions, and each could be broken down into the respondents' specific UK region, age group, and gender.
To find out the vape sales, we looked at Vype's online sales data for this year (Jan-Oct) using Google Analytics. We compared the vape sales in each city to each city population per 100 thousand to determine the proportional number of sales against the city size.
To find out the number of vape shops in the UK, we used an online directory via E-cig Directory, and scraped the listings to calculate what city had the most.
To find out which cities were searching for 'vape shop' queries the most online, we used a keyword analytics tool to analyse average searches in the last 3 years for each UK city. For the purpose of the campaign, we analysed the number of searches by city against the city population per 100 thousand to determine the proportional number of online searches in the UK.