Meet The Pioneers of Vaping
Vaping didn't come out of nowhere. When you vape, the machine you hold in your hand is the result of at least ninety years of engineering progress, experimentation, and breakthroughs.
But who were the pioneers whose insights and epiphanies contributed to this technology? Let us introduce you to the pioneers of vaping.
Irfan Shiekh
The technology to smoke with vapour has been around for centuries; the first water pipes originated in India and Iran in the sixteenth century. One of their originators was a doctor called Irfan Shiekh who practiced at the court of the Mughal emperor in the sixteenth century.
Joseph Robinson
The first electronic cigarettes, however, were invented in the twentieth century. On the 3rd May 1927, Joseph Robinson walked up the steps of the New York patent office to file a patent for a device he called a 'Mechanical Butane Ignition Vaporizer.' "My invention," he explained, "relates to vaporising devices for holding medicinal compounds which are electrically heated to produce vapors for inhalation." It was approved in 1930 but Robinson never brought it to market, and the technology lay dormant for a few decades.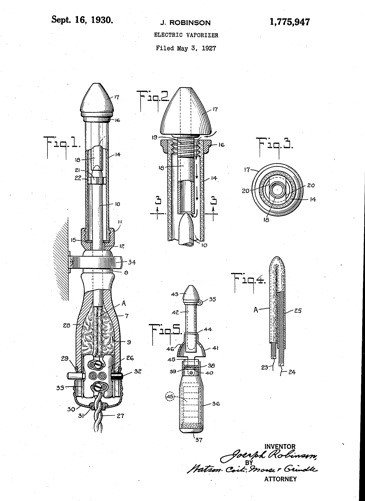 Joseph Robinson's patent
Herbert A Gilbert
In the early sixties, a young veteran of the Korean war called Herbert A Gilbert set his mind to solving the problem of how to make an alternative to cigarettes without combustion. "Using the technology available in 1963," he explained, "I concluded that a battery powered heat source would do the job, and the first electric cigarette was born. I did build prototypes and tried using various flavors of water as steam… and it worked."
It was never fashionable enough to take off, but today's vaping devices use the same basic technology. You can read an interview with Gilbert here.
Phil Ray
"Phil Ray had a very sharp resumé," according to collaborator Dr Norman Jacobson. It just had two things on it: "he was accredited with fathering the micro processer and had managed the Apollo program."
But in the late seventies, Ray was working on something entirely new: a way to inhale nicotine without combustion. He came up with something which looked and felt like a cigarette, but was actually a nicotine soaked filter paper, which worked without any combustion at all. Instead the vaper inhaled pure nicotine vapour. When the user drew air through it, the nicotine was pulled out of the paper and into the lungs. The idea did not take off, but it gave birth to the word 'vaping.' You can see a TV ad for it here.
Hon Lik
Hon Lik, a pharmacist from the Liaoning region in the north east of China, used to light his first cigarette of the day as soon as he woke up. By dinner time, he was onto his third pack. But when his father died of lung cancer, he decided to try to quit for good. Unlike so many others, however, he went on to invent an alternative. By putting a small lithium battery into a tube to atomise a liquid nicotine solution, he contributed to the e-cigarette we know today.
The device went on the market in China in 2004 and in Europe and the US in 2006 and 2007.
Ted and Matt Rogers
Ted and Matt Rogers are a father and son team from the East Midlands in the UK. One day, while tinkering with their e-cigarette, they decided to replace the body of the device with a small pocket torch. They realised there might be a demand for these modulations, and when they started selling them online, they were a great success. Their adaptation has formed its own subculture, and they have ended up going down in history as the originators of 'modding,' modulating the body of e-cigarette.
Conclusion
The story of the e-cigarette is not over. Today there must be thousands of people hard at work who will go on to be the eCigarette pioneers of tomorrow.