Should I be worried if my vape starts leaking?
We all end up there sooner or later – you go to grab your eCigarette, and there's traces of eLiquid on it. But "leaking" devices are nothing out of the ordinary, and something all vapers experience at some time or another.
Vype's scientists have used their vaping expertise to create the Vype ePen 3 –with a no-spill cartridge design it provides a no-mess vaping experience. However, the important thing to remember is that when leaks do occasionally occur, most are nothing to worry about. It generally doesn't mean there is anything wrong with your device, and most leaks are easily fixed – as we'll show below.
Why do vapes leak?
Understanding how leaks occur can help you fix them quickly.
It's all to do with condensation. When you inhale on an vaping device, you draw vapour up a tube and through the mouthpiece. However, when vapour comes into contact with a cooler surface – like the inside of the vapour tube – it condenses to form droplets on the inside of the tube.
These droplets normally disappear with time, and if you're using an ePen 3 the inside of the mouthpiece has a groove specially designed to catch them. But if enough condensation builds up – often because the vaper is puffing too intensely on the device – droplets can escape the mouthpiece. This is all a "leak" really is.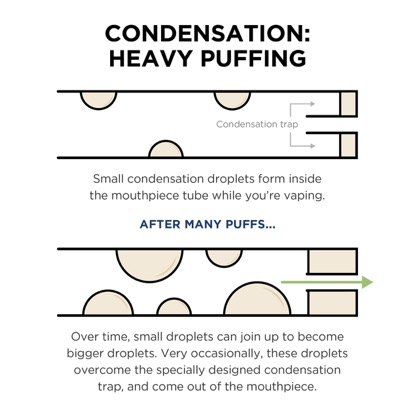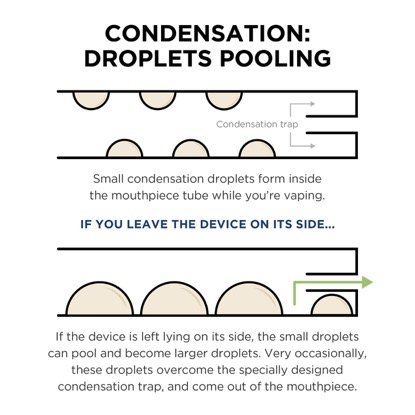 Inhaling too hard on the device

Returning to a flavour cartridge after leaving it on its side for a while

Puff gently - some liquid will come out, but once the initial condenstion has cleared, it will return to normal
Exhaling into the mouthpiece

Turn away from the mouthpiece before exhaling